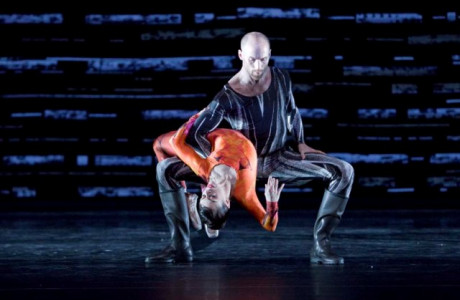 Duration: about 2 ¾ hours, two intervals
Marsch, Walzer, Polka
Martin Schläpfer
A mysterious tremolo seems to depict a pleasant landscape. Like soft ripples, fragments of motives break the surface. "The Blue Danube" begins to swirl. Over and over again the musical flow begins to swell anew, gathers impetus, even derives strength from the famous rubati. No other city has it in itself to express everything in only one bar of its music: the wineries, the snugness of missed heartbeats, the glimpses of eternity – and what is beyond it. Strauss, father and sons, that means waltz dreams and dance ecstasy, melody of life in three-four time and joyful abandon, entertainment and self-release, but also melancholy, heedlessness, detachment often to the point of escapism or even of hysteria – a music which is as dangerous as it is sweet and which knows the aspect of night.
"That all longing is greater than its attainment, and that overriding passion by its nature entails failure, one has seldom seen so zestfully dissected", wrote the Stuttgarter Zeitung of Martin Schläpfer's equally affectionate and ironically objective depiction of the culture of music, dance and condition of the Austrian metropolis in his Viennese ballet "March, Waltz, Polka". They spin with their imaginary partners, rock outstretched, listen raptly when the orchestra fiddles sob most dolefully, discover the drag of tango lurking in a waltz and unmask pointe shoes as dangerous weapons, meet each other midsummer-drunken as boundlessly tender somnambulists, lose their nerves and shake at the knees instead of defiling straight as ramrods before an imaginary general of the old Dual Monarchy: such are the dancers populating the stage. Far removed from the clichés of the Opera Ball, in "March, Waltz, Polka" Martin Schläpfer evokes anew the delicately balanced ambiguity of euphoria and melancholy, of emotional depth and burlesque comedy, so characteristic of Vienna.
***MUSIC
"Blue Danube Waltz" op. 314 and "Anna" Polka op.117 by
Johann Strauss jr.
"Music of the Spheres" waltz op.235 by Josef Strauss
Radetzky March op.228 by Johann Strauss sen.
Choreographie
Martin Schläpfer
Musikalische Leitung
Christoph Altstaedt
Kostüme
Thomas Ziegler
Licht
Thomas Diek
Orchester
Düsseldorfer Symphoniker
Tänzerinnen
Sachika Abe
,
Ann-Kathrin Adam
,
Marlúcia do Amaral
,
Camille Andriot
,
Aisha L. Arechaga
,
Doris Becker
,
Mariana Dias
,
Feline van Dijken
,
Yuko Kato
,
So-Yeon Kim
,
Anne Marchand
,
Nicole Morel
,
Claudine Schoch
,
Virginia Segarra Vidal
,
Julie Thirault
,
Anna Tsybina
,
Irene Vaqueiro
Tänzer
Paul Calderone
,
Jackson Carroll
,
Martin Chaix
,
Florent Cheymol
,
Marquet K. Lee
,
Marcos Menha
,
Bruno Narnhammer
,
Bogdan Nicula
,
Helge Freiberg
,
Sascha Pieper
,
Boris Randzio
,
Ordep Rodriguez Chacon
,
Alexandre Simões
,
Remus Sucheana
,
Pontus Sundset
,
Maksat Sydykov
,
Jörg Weinöhl
Forellenquintett
Martin Schläpfer
A dancer rubs her eyes as if it were all a dream when she suddenly finds herself standing in the middle of a different world: a forest in a summer night, a shining lake reflecting the light of the moon – a labyrinthine place where forms of all sorts gather together. Couples meet and, only just now in each other's arms, change partners in a twinkling as if it were a Shakespearean midsummer night; a lonely poet, both eccentric and over-fond of his wine, constantly fails to attain the object of his desire and is transformed like lightning into a wildly leaping goblin; a lone elf performs her dance, a bewitched swan awaits release, over and over again reminiscences of Franz Schubert flash by, the place is filled with the fragrance of the Vienna woods or the exuberant joy of a winery …
And – there is dancing and dancing and dancing – en pointe, flat-slippered, in sneakers, in gum-boots – in a breathless pageant the whole compendium of Martin Schläpfer's dance art is unfolded. The vivacity of Franz Schubert's Trout Quintet is matched by the many weightless elevations, giddy pirouettes, arabesques raised to the limit and adept entrechats. Bustle, scintillation, hurly-burly rule the hour.
And yet twice in this next to Maenad turbulence the world stands still. In a lyrical ensemble, recalling the thistledown romanticism of actes blanches and for all that suggesting an agony of apparently interminable hovering immobility en pointe, architecture and plasticity, the constructive and the expressive blend into a tense unity, in the concentrated beauty of which something deeply disquieting pulses within. That Martin Schläpfer is at the same time a story-teller of magnitude is demonstrated by contrast in the movement with the trout variations – a breathtaking pas de deux in which the tale of the trout unfurls into a diabolical struggle between the fish and the human being, the man and the woman.
***
FORELLENQUINTETT
Martin Schläpfer
MUSIC
"Don't be shy" by The Libertines
Quintet for piano, violin, viola, violoncello and double-bass in A major D 667 ("the Trout Quintet") by Franz Schubert
Choreographie
Martin Schläpfer
Bühne und Kostüme
Keso Dekker
Video
Franz-Xaver Schaffer
,
Keso Dekker
Licht
Franz-Xaver Schaffer
Tänzerinnen
Sachika Abe
,
Ann-Kathrin Adam
,
Marlúcia do Amaral
,
Camille Andriot
,
Aisha L. Arechaga
,
Feline van Dijken
,
Cristina Garcia Fonseca
,
So-Yeon Kim
,
Louisa Rachedi
,
Virginia Segarra Vidal
,
Anna Tsybina
,
Irene Vaqueiro
Tänzer
Christian Bloßfeld
,
Jackson Carroll
,
Helge Freiberg
,
Philip Handschin
,
Antoine Jully
,
Bogdan Nicula
,
Sascha Pieper
,
Ordep Rodriguez Chacon
,
Andriy Boyetskyy
,
Alexandre Simões
,
Jörg Weinöhl
Reformationssymphonie
Martin Schläpfer
"That defiant song with which he (Luther) and his companions entered Worms was a battle hymn" wrote Heinrich Heine about the church chorale "Ein' feste Burg ist unser Gott", written in 1529 and long since become something of an identification symbol for Protestants. He continued: "The old cathedral shook at these new sounds and the ravens felt alarm in their tower nests. That hymn, for the Reformation the equivalent of the Marseillaise, has kept its power to arouse enthusiasm into our time" – power which Felix Mendelssohn-Bartholdy must have sensed when in January 1831 he reported from Rome to his friend Klingemann after extensive reading of Luther's hymn texts: "It is more than magnificent how every word cries out for music, how every verse is a new piece, how everywhere progress, movement and growth take place". By that time he had already completed his "Reformation Symphony", that "spiritual concert" in which the purity and abstracted beauty so typical of Mendelssohn seems cleft in unusually brusque ruggedness – as if the young composer had wanted to confront the contradictions of his time with each other in a world of thought and sound all of his own, which points beyond absolute music values to the basic quandaries of humanity.
Doubting Man, tossed to and fro between self-assertment and defencelessness, striving after love and recognition, is a central theme in Martin Schläpfer's choreographic work also. In his ballet "Reformation Symphony" the ensemble repeatedly forms up as if to battle. Their bodies are tensed as hard as steel, and with dangerous aggression the black pointe shoes of the ballerinas are stabbed at a floor which is also stamped with wild, earthy vigour. And yet the world of this piece knows its airy heights also in the long legs of the dancers en pointe, the men's extreme elevation, freed from all terrestrial gravity, in the vulnerable longing and utter fragility of many passages, or in the entrancingly weightless beauty of the andante, in which each of the seven pairs dances its own pas de deux and nevertheless all merge into the flow of the music.
"Reformation Symphony" is more than just a ballet. It is an urgent questioning of dance per se, of movement and more, of that which is beyond it.
***
Symphony No.5 in D minor, op.107, "Reformation Symphony" by Felix Mendelssohn-Bartholdy
Choreographie
Martin Schläpfer
Musikalische Leitung
Christoph Altstaedt
Kostüme
Marie-Thérèse Jossen
Licht
Franz-Xaver Schaffer
Tänzerinnen
Sachika Abe
,
Marlúcia do Amaral
,
Camille Andriot
,
Doris Becker
,
Christine Jaroszewski
,
Yuko Kato
,
Anne Marchand
,
Nicole Morel
,
Julie Thirault
Tänzer
Christian Bloßfeld
,
Helge Freiberg
,
Antoine Jully
,
Bogdan Nicula
,
Ordep Rodriguez Chacon
,
Alexandre Simões
,
Remus Sucheana
,
Pontus Sundset
,
Maksat Sydykov
Jörg Weinöhl
Orchester
Düsseldorfer Symphoniker