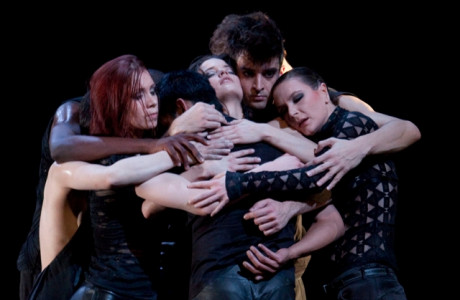 Duration b.11: about 2 ½ hours, two intervals
Backyard (Uraufführung)
Uri Ivgi and Johan Greben
Backyards are the scene which reveals what otherwise escapes our view. In their new piece "Backyard" for Ballett am Rhein Uri Ivgi and Johan Greben take up the theme of those aspects of life that usually are concealed behind buildings. Dancers explore the stage in a perpetual search of a way out and are confronted with what was hidden. Three compositions of extremely different character were the musical basis for the Dutch-Israeli choreographic partnership and stand for three phases of development: the orchestral sketches "Stille und Umkehr" (silence and turnaround) by Bernd Alois Zimmermann, "Anger" by Ryuichi Sakamoto and "Fratres" by Arvo Pärt.
Uri Ivgi began his career in 1990 with the Kibbutz Contemporary Dance Company and in 1998 won the 1st Prize at the international competition for choreographers of the Israeli Ministry of Culture in the category "best dancer". Johan Greben at first danced from 1985 onwards with Het Nationale Ballet of Amsterdam, for whom he also created "Later", his first choreography. He has now been active as a freelance choreographer since 1995. When the two artists first met in 2002, each was so fascinated by the work of the other that they decided to form a team. Since then the dance theatre of Uri Ivgi und Johan Greben has been scoring international successes, with world premières for IT dansa in Barcelona, the ballet of the Prague National Theatre, Scapino Ballet, the Scottish Dance Theatre, Skanes Dansteater, NorrDans and the Szeged Contemporary Dance Company. Their energy-packed work is a mixture of turbulent ensemble choreography and poetic images whose symbolic content recalls dream-worlds or fables – momentary pictures which move and impress in a manner partly humorous but always very intense. For their choreography "This is not a love song" Uri Ivgi und Johan Greben were decorated for the "best choreography of the year 2011" with the "Golden Mask", Russia's most significant theatrical prize. "Backyard" is the duo's first work to be given at Deutsche Oper am Rhein.
***
BACKYARD
World première
Uri Ivgi und Johan Greben
Music
"Stille und Umkehr". orchestral sketches by Bernd Alois Zimmermann, "Anger" from "Discord" by Ryuichi Sakamoto and "Fratres" by Arvo Pärt
Choreographie und Bühne
Uri Ivgi
,
Johan Greben
Musikalische Leitung
Christoph Altstaedt
Kostüme
Natasja Lansen
Licht
Yaron Abulafia
Tänzerinnen
Ann-Kathrin Adam
,
Camille Andriot
,
Yuko Kato
,
Nicole Morel
,
Louisa Rachedi
Tänzer
Martin Chaix
,
Marquet K. Lee
,
Marcos Menha
,
Sonny Locsin
,
Alexandre Simões
Orchester
Düsseldorfer Symphoniker
Violakonzert
Martin Schläpfer
Life is like a walk hurled to and fro between light and darkness, waking and dreaming, joy and sorrow. And mostly it is the ways through the dark which increase the walker's stature.
In memory of his departed mother Martin Schläpfer created his ballet "Violakonzert" in two instalments in 2002 and 2004. He derived the energy for his highly musical dance art from a composition by Alfred Schnittke, the concerto for viola and orchestra written in 1986 – a score which looks into the history of music as if into a kaleidoscope. Classical cadenza forms cling to warlike marches or to references to the brutal rhythms of the "Rite of Spring", stylistic approach to Bach partitas flows into the archaic parallel fifths of mediaeval music or ghostly percussion effects, a hurdy-gurdy accompanies a Russian folk melody, appeals are made to romantic idylls and reminiscences of Viennese waltz, only to be promptly catapulted away by grimace-like obstructiveness. It is a search as urgent as hopeless for the lost beauty of a once harmonious world – a captivatingly melancholic sound metaphor for loss and confusion created by Schnittke's opus.
Out of a beginning of formal strictness subjected to pure dance, more and more intense emotional situations of fine intermediacy are peeled out. An arc is described between the development of a childishly naïve relationship between a couple to the maturity of full partnership. Simple movement patterns intensify to highly complex, expressive forms of statement with extreme postures and lifts. Now gentle, now aggressive, now passionate, now romantic, now full of playful jocularity, now returning to unaware childish naïveté – but always in the consciousness of latent threat and with the intensity of knowledge that nearness, tenderness, affection, passion and love represent only temporary happiness - a puzzling ballet full of darkly glowing magic.
***
VIOLAKONZERT
Martin Schläpfer
Music
concerto for viola and orchestra by Alfred Schnittke
Choreographie
Martin Schläpfer
Musikalische Leitung
Christoph Altstaedt
Bühne und Kostüme
Thomas Ziegler
Licht
Volker Weinhart
Tänzerinnen
Ann-Kathrin Adam
,
Marlúcia do Amaral
,
Camille Andriot
,
Feline van Dijken
,
Cristina Garcia Fonseca
,
Christine Jaroszewski
,
Yuko Kato
,
Anne Marchand
,
Julie Thirault
Tänzer
Paul Calderone
,
Martin Chaix
,
Bogdan Nicula
,
Chidozie Nzerem
,
Remus Sucheana
,
Pontus Sundset
Viola
Gabriel Bala
Orchester
Düsseldorfer Symphoniker
Fearful Symmetries
Nils Christe
"Fearful Symmetries" is the title of a composition by John Adams which plays on exactly those effects which are so typical of the American minimalist: out of a nervous, always forwards-driving pulse and surging string effects in continuous loops again and again jazzlike wind groups break out. The rhythms are complex and the tempo extremely brisk. "Fearful symmetries" is also the title of Nils Christe's ballet to this music – choreography which can easily make one afraid in view of the breathtaking runs in a mix both fresh and uncramped between classical ballet, modern dance and jazz dance all the way towards an athletic disco style. The dancers installed on their colourful stools seem plugged into heavy-current as their for ever varying formations create one new symmetrical dance zone after another: squares, diagonals, blocks. lengthwise and sidewise fronts.
Nils Christe was engaged as a dancer for many years, and today he numbers among the most important of choreographers. His ballets belong to the repertoire of many of the big companies. Among others he created world premières for NDT, Het Nationale Ballet of Amsterdam, Introdans, the Royal Swedish Ballet, the Royal Danish Ballet, the National Ballet of Flanders, the Bavarian State Ballet, the English National Ballet, the Washington Ballet, the ballets of the opera houses of Paris and Lyon, the Basel ballet and Scapino, of which he was Director from 1986 to 1993.
"Fearful Symmetries" was a world première hailed alike by Press and public and devised by Nils Christe in 2004 for Martin Schläpfer's ballettmainz; at the time Gerald Siegmund wrote in the Frankfurter Allgemeine Zeitung: "A gripping bit of dance, wideawake and lucid, in which the ensemble can discharge fireworks of difficult movement".
***
FEARFUL SYMMETRIES
Nils Christe
Music
"Fearful Symmetries" by John Adams
Choreographie
Nils Christe
Musikalische Leitung
Christoph Altstaedt
Bühne
Thomas Rupert
Kostüme und Einstudierung
Annegien Sneep
Licht
Volker Weinhart
Tänzerinnen
Marlúcia do Amaral
,
Aisha L. Arechaga
,
Doris Becker
,
Feline van Dijken
,
So-Yeon Kim
,
Anna Tsybina
,
Irene Vaqueiro
Tänzer
Christian Bloßfeld
,
Helge Freiberg
,
Philip Handschin
,
Sonny Locsin
,
Bruno Narnhammer
,
Remus Sucheana
,
Pontus Sundset
,
Maksat Sydykov
Orchester
Düsseldorfer Symphoniker