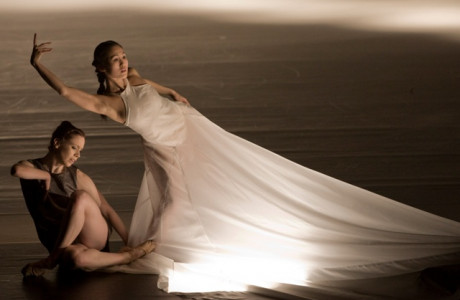 Duration b.07: about 2 1/2 hours, two intervals
Compositie
Hans van Manen
When the curtain rises, our eyes are first turned to two symmetrically arranged square tables, each with four simple stools. Two male dancers enter, two others follow and then four female dancers – and by then at the latest it has become clear that this ballet is concerned with absolutely complete symmetry, with perfect mirroring taken to a point that by the end we no longer know whether what we are seeing on stage is astonishingly fascinating reality, or whether it is we ourselves that are seeing double.
But that is still not enough. First performed at the Holland Festival in 1994, the ballet "Compositie" would not be one of Hans van Manen's masterpieces if it were restricted to such formal experiment and would not search behind abstract artistic form for a deeper significance, for the inner reality of things. As if in an arena of relationships and feelings a game develops between the pairs behind whose lasciviously chilly façade of strictly fixed ritual a hard, dangerously lurking eroticism breaks out over and over again. "The desire for abstraction is decisive in my ballets, but it should not black out the theme of human relationships," Hans van Manen explained in an interview; "I do not wish that even for a moment it is overlooked that my ballets are about real people".
Hans van Manen's timelessly aesthetic approach does not only supply the programme of Ballett am Rheinnot only some of its most essential colours, but also, thus the pronouncement of ballet critic Wiebke Hüster in Deutschlandfunk after the première of "Compositie" in Düsseldorf Opernhaus in February 2011, "Ballett am Rhein is the best address in Germany to see Hans van Manen's wonderful works".
***
COMPOSITIE
Hans van Manen
MUSIC
"Eros Piano" for chamber orchestra and piano by John Adams and "Madame Press died last week at ninety" by Morton Feldman
Choreographie
Hans van Manen
Musikalische Leitung
Catherine Rückwardt
Bühne und Kostüme
Keso Dekker
Licht
Joop Caboort
Einstudierung
Arlette van Boven
Klavier
Dirk Wedmann
Paar 1
Julie Thirault
,
Bogdan Nicula
Paar 2
Louisa Rachedi
,
Ordep Rodriguez Chacon
Paar 3
Mariana Dias
,
Alexandre Simões
Paar 4
Ann-Kathrin Adam
,
Maksat Sydykov
Orchester
Duisburger Philharmoniker
Frozen Echo
Regina van Berkel
A helix made of scrapped computer monitors whirls imposingly like a dinosaur's spine in a wide arc across the stage. The atmosphere generated by Regina van Berkel's dance opus "Frozen echo" is
at once futuristic and archaic. Now her dancers seem an organic mass with impulses impaling them like sound-waves, now the bodies pile up into fascinating living sculpture groups which for a short moment seem to stand still like a tableau, and over and over again single figures emerge as if from the mists of times long past. "These figures do not definitively reveal their secret," wrote Dorothee Krings in the Rheinische Post, "but they each and all contribute to weaving the compact spherical atmosphere of this powerful work 'Frozen Echo'."
Regina van Berkel began to devise her own choreographies while she was still working as a dancer in William Forsythe's Frankfurt Ballet. Today she is one of the Dutch dance personalities with the biggest international reputation. Together with composer Theo Verbey and the installation artist Dietmar Janeck she has plunged, for her first choreography for Ballett am Rhein, into an intense process of mutual interaction between dance, music, stage and lighting: the single parameters resound off each other like echoes and react reciprocally.
For this ballet the Dutch composer Theo Verbey palimpsested an earlier work: he expanded the score of his "Schaduw" of 2004 and "shaded" it differently by the addition of further instruments, so that in its encounter with Regina van Berkel's choreography a new work with respect also to the music emerged.
***
FROZEN ECHO
Regina van Berkel
MUSIC
"Frozen Echo" by Theo Verbey
Choreographie
Regina van Berkel
Musikalische Leitung
Catherine Rückwardt
Bühne, Video und Licht
Dietmar Janeck
Kostüme
Regina van Berkel
Tänzerinnen
Sachika Abe
,
Ann-Kathrin Adam
,
Marlúcia do Amaral
,
Doris Becker
,
Mariana Dias
,
Feline van Dijken
,
Cristina Garcia Fonseca
,
Yuko Kato
,
So-Yeon Kim
,
Anne Marchand
,
Nicole Morel
,
Louisa Rachedi
,
Virginia Segarra Vidal
,
Camille Andriot
,
Anna Tsybina
Tänzer
Christian Bloßfeld
,
Paul Calderone
,
Jackson Carroll
,
Martin Chaix
,
Florent Cheymol
,
Helge Freiberg
,
Philip Handschin
,
Antoine Jully
,
Sonny Locsin
,
Bruno Narnhammer
,
Bogdan Nicula
,
Chidozie Nzerem
,
Sascha Pieper
,
Boris Randzio
,
Ordep Rodriguez Chacon
,
Alexandre Simões
,
Remus Sucheana
,
Pontus Sundset
,
Maksat Sydykov
Orchester
Duisburger Philharmoniker
Robert Schumann Tänze
Martin Schläpfer
Two men duelling, a woman between them. An archetypal situation – and at the same time a famous historic ménage à trois which was to have a lasting effect on the lives of the married couple Robert and Clara Schumann in their Düsseldorf years. Between 1854 and 1856 Johannes Brahms spent most of his time in the house of the Schumanns and did not only appreciate Robert Schumann as the valuable mentor of his young career, but also fell in love with his wife Clara.
Dances to and about Schumann: Martin Schläpfer coming to terms with the so-called "Rhenish" Symphony in E flat major, his third, which Schumann composed in Düsseldorf in 1850. It is not the intention of the choreographer merely to relate one of the most romantic true-life love stories of the 19th century all over again. These figures are rather to be a sort of human material, to treat which is to discover more not only about dance and dance-theatre, but also to cross a threshold into the mysteries of human existence.
Manuel Brug in "Die Welt" pronounced over the first performance in February 2011 in Düsseldorf Opernhaus, "'Robert Schumann Tänze' are approaches and comments, fragments and aphorisms which afterwards absolutely leave the impression of an overall interpretative unity in the memory. Martin Schläpfer once again does not lay down the law, he lets us contructively share his doubts". And Wiebke Hüster wrote in the Frankfurter Allgemeine Zeitung: "Once again the light-fingered acknowledgment of forerunners in flashes of quotation, once again use of a dance language which is still whole, but used better than before and wisely, condensed in contrast of pure movement and intermittence, narration, painting, versifying and everything else that great choreographers have in their inventory with a few measures and paces".
***
ROBERT SCHUMANN TÄNZE
Martin Schläpfer
MUSIC
Symphony №.3 in E flat major op.97, (the "Rhenish") by Robert Schumann
Choreographie
Martin Schläpfer
Musikalische Leitung
Catherine Rückwardt
Kostüme
Gabriela Oehmchen
Licht
Thomas Diek
Tänzerinnen und Tänzer
Sachika Abe
,
Ann-Kathrin Adam
,
Marlúcia do Amaral
,
Aisha L. Arechaga
,
Doris Becker
,
Mariana Dias
,
Cristina Garcia Fonseca
,
Yuko Kato
,
So-Yeon Kim
,
Nicole Morel
,
Louisa Rachedi
,
Virginia Segarra Vidal
,
Julie Thirault
,
Anna Tsybina
,
Irene Vaqueiro
,
Christian Bloßfeld
,
Paul Calderone
,
Jackson Carroll
,
Martin Chaix
,
Florent Cheymol
,
Helge Freiberg
,
Philip Handschin
,
Sonny Locsin
,
Marcos Menha
,
Chidozie Nzerem
,
Boris Randzio
,
Alexandre Simões
,
Pontus Sundset
Orchester
Duisburger Philharmoniker