Young Audience
Children's Choir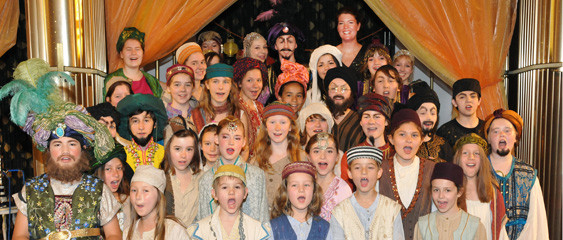 Our Children's Chorus has grown. Since the previous season we have a preparatory chorus led by Svenja Lehmann. Children from six to nine are prepared here for their rehearsal work with the main chorus. But rehearsing is not all they do. They are actively involved together with the children and youngsters of the main chorus in the production of Benjamin Britten's children's opera "Arche Noah" and also in the second Christmas carol training camp. "Werther" by Jules Massenet will give the children's Chorus their first chance to appear in a performance by the full company in Düsseldorf Opernhaus. Anyone interested in joining is welcome to watch a rehearsal and to audition. The more we grow, the better.
REHEARSALS
MAIN CHORUS every Friday, 16:00 –18:00 h
PREPARATORY CHORUS every Friday, 16:00 –17:00 h in Theater Duisburg
CONTACT
CHORUS MISTRESS Karoline Philippi, phone.+ 49 (0) 211 . 89 25-457,
kinderchor@operamrhein.de
***

Children's Opera with Kinderchor am Rhein
Benjamin Britten

ARCHE NOAH

God is dissatisfied with the human race. It does not show due respect for the earth, His gift. Because of this He decides to destroy everything He has created. Noah alone is to be spared with his family. He is instructed to build the Ark, a ship which will save him from the imminent flood. He accordingly sets to work with his sons. When the waters rise, Noah makes his family embark with one pair of every animal. His wife is disinclined to say goodbye to their home, but their sons are able to persuade her to go on board. A tumultuous storm falls on the ship and sweeps it into the turbulent flood. After forty days the storm dies down and Noah sends out a raven and a dove to explore. The raven does not return, but the faithful dove comes back with an olive twig in its beak indicating that there is dry land near. As a sign of the reconciliation of heaven and earth, a rainbow appears in the sky.

In 1958 Benjamin Britten composed a church music play on this Biblical story. Originally planned for performance in church, it is now being given on the main stage of Theater Duisburg by Kinderchor am Rhein. The children and youngsters are supported by members of the opera company and by the Duisburg Philharmonic. The public is seated on the stage itself and is thereby closely involved in the action.